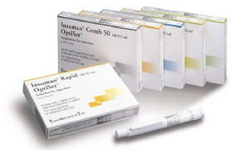 Sanofi-Aventis is the world's 3rd largest pharmaceuticals company, headquartered in Paris, France.
Sanofi-Aventis also produces two lines of r-DNA/GE/GM insulins under the brand names Insuman and Winthrop. These insulins are available in Europe and many other countries world-wide, but not in the US or in Canada. Not all products are available in all countries and some may be available in one delivery form (pen or vial), but not another. Insuman amd Winthrop pens and cartridges use the same Aventis Opti-Clik delivery system as Lantus does.
Some of their products listed here are helpful for diabetic animals.

Subcategories
This category has the following 2 subcategories, out of 2 total.
Pages in category "Aventis"
The following 21 pages are in this category, out of 21 total.
Ad blocker interference detected!
Wikia is a free-to-use site that makes money from advertising. We have a modified experience for viewers using ad blockers

Wikia is not accessible if you've made further modifications. Remove the custom ad blocker rule(s) and the page will load as expected.