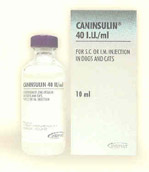 Headquartered in the Netherlands, Intervet,
[1]
founded in 1969, has a global presence. It was the third-largest veterinary pharmaceutical company in the world. There are Intervet products to help almost every species--from birds to farm animals and horses. The company has been well-known for its work in veterinary vaccines and other platforms. It is best-known to us with diabetic pets as the producer of
Caninsulin
(known in some countries as
Vetsulin
), a U40
porcine
Lente
insulin.
Owned by Akzo-Nobel, Intervet was one of the three companies that made up Akzo-Nobel's pharmaceutical division. [2] Completing the division are Organon, a human pharmaceutical company (its first product was insulin in 1923), [3][4] and Diosynth, which makes biotech and traditional pharmaceutical raw materials (among them, insulin extracted from animal pancreases since 1923). [5][6][7][8]
Intervet merged with Schering-Plough Animal Health; both companies have now merged with Merck. The Merck merger created the second-largest veterinary pharmaceutical company in the world.[9] On June 29, 2011, it was announced that Intervet/Schering-Plough Animal Health would now be known as Merck Animal Health in the United States and Canada and called MSD Animal Health elsewhere.[10]
References
Edit
Pages in category "Intervet"
This category contains only the following page.
I
Ad blocker interference detected!
Wikia is a free-to-use site that makes money from advertising. We have a modified experience for viewers using ad blockers

Wikia is not accessible if you've made further modifications. Remove the custom ad blocker rule(s) and the page will load as expected.