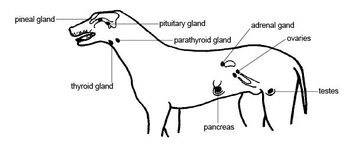 Diabetes refers to either diabetes mellitus or diabetes insipidus, with this site focusing mainly on Diabetes Mellitus.
Diabetes insipidus is a chronic condition of insufficient Antidiuretic hormone or resistance to this hormone.
Diabetes mellitus is a chronic condition of insufficient insulin or resistance to it, and high blood glucose levels.

Diabetes insipidus
Edit

See wikipedia:Diabetes insipidus for further information.
Here's help-message boards and e-mail lists
Edit
Diabetes mellitus
Edit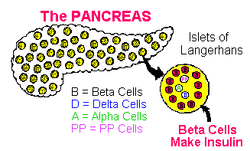 Diabetes mellitus is commonly divided into two types, [1] depending on the origin of the condition:
Type 1 diabetes, sometimes called "juvenile diabetes", is caused by destruction of the beta cells of the pancreas. The condition is also referred to as Insulin-Dependent diabetes, meaning the sufferer must have insulin to replace the insulin his/her pancreas is no longer capable of producing or able to produce in enough quantity to properly supply the body's need for it. Dogs have Insulin-Dependent, or Type 1, diabetes. [2]
A Type-2 diabetes patient may be producing enough insulin for the body's needs but his or her body is unable to use it properly. This is why diet alone or diet and oral medications can keep Type-2 diabetes in control.
A simple analogy could be that of a well. In Type-1 diabetes, the well is dry and you can't draw water from it. In Type-2 diabetes, the well is working fine, but you have no bucket to draw water from it with.

Fast Facts-Diabetes Mellitus
Edit
Similarities and Differences of Diabetes Mellitus in Canines and Felines [8]

Contributing Factors in Diabetes Mellitus

Felines
Canines

Common endocrine disorder

Yes
Yes

Primary diabetes is most similar to human Type II, NIDDM

Yes
No [9]

Primary diabetes is most similar to human Type I, NIDDM

No
Yes

Peak occurrence in middle-aged to older animals

Yes
[4]
Yes

Breed predispositions

No
Yes

Initially presents as NIDDM and progresses to IDDM

No
Yes

Can experience transient diabetes

Yes
Yes
[10][11][12]

Obesity is a common factor

Yes
Yes

Higher incidence in males versus females

Yes
No

Higher incidence in females versus males

No
Yes
[3]
Here's help-message boards and e-mail lists
Edit
References
Edit
More Information
Edit
Online Videos
Edit